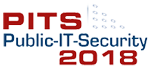 Public IT Security
09-10-2018 - 09-11-2018
Join us at the Public IT Security (PITS) event, being taken place at the Adlon Hotel in Berlin, Germany, from September 10th to 11th, 2018.
The PITS is the specialized congress of Germany for IT and cyber security in State and administration. The aim of the PITS is to bring together business leaders, but especially those from the federal, state and local governments, academia and security authorities on IT and cybersecurity issues.
The theme for the 10th anniversary of the PITS is "Security and risk - strategies for successful digitization". At this two-day event, challenges arising from the use of IT and increasing digitization of our society will be discussed. In addition, the solutions to solve these issues will also be presented.
To purchase the pass, please visit the event website. We look forward to seeing you there.
Request a meeting or demo at the event.